[title align="center"]MOBTS 2018 at Coastal Carolina University
June 6 – 9 2018[/title]
[title type="special-h4-left" animation="left-to-right"]About the Conference Site[/title][spacer height="20px"]
Coastal Carolina University is a public National Sea Grant institution founded in 1954, but claiming independence in 1993 from the State system. The main campus sits 9 miles west of the ocean of downtown Myrtle Beach. As of 2017 it has just shy of 11,000 students with business management currently being the largest major on campus.
The Wall College of Business – our host for MOBTS 2018 – has over 2,000 students and over 100 faculty members, 27 of which are management faculty. 12 of those management faculty have attended many prior MOBTS conferences.
MOBTS has long been a staple amongst Wall College of Business faculty making it a tremendous fit for the 2018 conference.
[title type="special-h4-left"]A Look Inside the Wall College of Business Majors[/title][spacer height="20px"][skill number="37″ caption="Management"][skill number="26″ caption="Marketing" color="#8e44ad"][skill number="12″ caption="Finance" color="#c0392b"][skill number="12″ caption="Accounting" color="#2c3e50″][skill number="8″ caption="Resort Tourism Management" color="#f1c40f"][skill number="4″ caption="MBA" color="#36af58″]
Thursday Night Event at The Peanut Warehouse
This year's Thursday Night Event will take place in downtown Conway, South Carolina at the historic Peanut Warehouse. The night will be filled with southern and barbecue cuisines, live music, and perhaps a few dancing lessons. Attendees will also have the opportunity to take a nice stroll along the Conway Riverwalk (weather permitting).
The Peanut Warehouse has a long and reach history in the heart of Horry County, South Carolina. It was built in 1900 to house tobacco. Later, it was used to store fertilizer and finally as a peanut warehouse, hence the name. Located just off the Waccamaw River, in the heart of historic Conway, it played an important role in this river town's economy around the turn of the century. When you step inside, you get a wonderful glimpse of days gone by.
Friday Night Awards Banquet at The Dunes Club
This year's Friday Night Awards Banquet will be heading off-campus so that our attendees can get a feel for the ocean side of the local area. The Dunes Club is one of the premier private clubs of the southeast, with one of the highest ranked golf courses in the nation, and will be our host for this always memorable night as we honor those that have contributed to our organization, our journals, and to management education as a whole. Before and after dinner, attendees will have the opportunity to enjoy the Club's oceanfront lawn (perhaps being challenged to a game of cornhole?), take a stroll down to the private beach, and more.
The Dunes Club is the premier Private Country Club and Golf Club in Myrtle Beach, SC, located oceanfront along the pristine shores of the Grand Strand. The Club is filled with rich history and fond memories and after more than 65 years, continues to provide its Members and guests with exceptional service and a family friendly atmosphere.

Jim's Place & The Talent Show at Athenaeum Hall
Jim's Place is the traditional evening social event, held each night of the conference. It is named in honor of Jim Waters, a regular OBTC attendee who passed away unexpectedly in the 1980s. Join other OBTC attendees for refreshments (with an open bar including beer and wine), snacks, music, and good conversation.
On Wednesday and Thursday nights, our nightly social called 'Jim's Place' will take place in the Alford Ballroom at Athenaeum Hall. On Friday night, Jim's Place will turn into our famous Talent Show! For those that are not interested in the talent show, but still interested in partaking in the social aspects of Jim's Place, Athenaeum Hall provides a foyer, two beautiful outdoor patios, or you can take a stroll around the gorgeous Blanton Park right outside the door from the Hall.
Residence Halls | Tradition & Chanticleer Halls
Please note, as always with on-campus stays at MOBTS conferences, if you require additional comfort beyond standard dorm sheets, pillows, and blankets, that you pack such for your trip, or purchase such upon arrival.
Attendees that choose to stay on-campus will be treated to two of Coastal's four brand new residence halls – Traditional Hall and Chanticleer Hall.
As always, we will do our absolute best to not exceed a 2:1 bed-to-bath ratio. Each residence hall suite is made up of five bedrooms. There are two beds in each bedroom (don't worry – unless you specify otherwise, only one person per bedroom!). Within each suite are two separate showers, two separate toilets, and three separate sinks. Thus having to use any one of these will not prevent a suitemate from being able to use another.
In most scenarios we will have four (4) attendees to a suite (thus a 2:1 bed:bath ratio).
On the first floor of the residence halls you will find large communal areas, breakout rooms, free laundry services, a professional grade community kitchen, and a marketplace (The POD Market) that will be kept open throughout the conference so you can grab any typical convenience store items that you may require or left behind.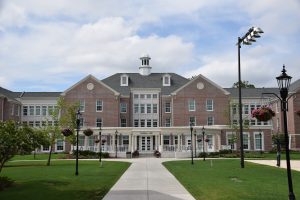 Conference Campus Footprint
While the campus is a total of 633 acres, MOBTS will be operating within a very compact footprint as the residence halls, dining hall, and Wall College of Business are all in a direct line of one another. In the event of a steamy hot day in the lowcountry, or a thunderstorm, the proximity of each building will minimize any inconveniences felt. Jim's Place will be held at Atheneum Hall (not shown on the map). While at a bit more of a distance than other conference buildings, we will have the Coastal Carolina University trolleys running all night to take people to and from the dorms for anyone who does not wish to walk.
Below is a map of our footprint. For a full campus map (PDF), click here.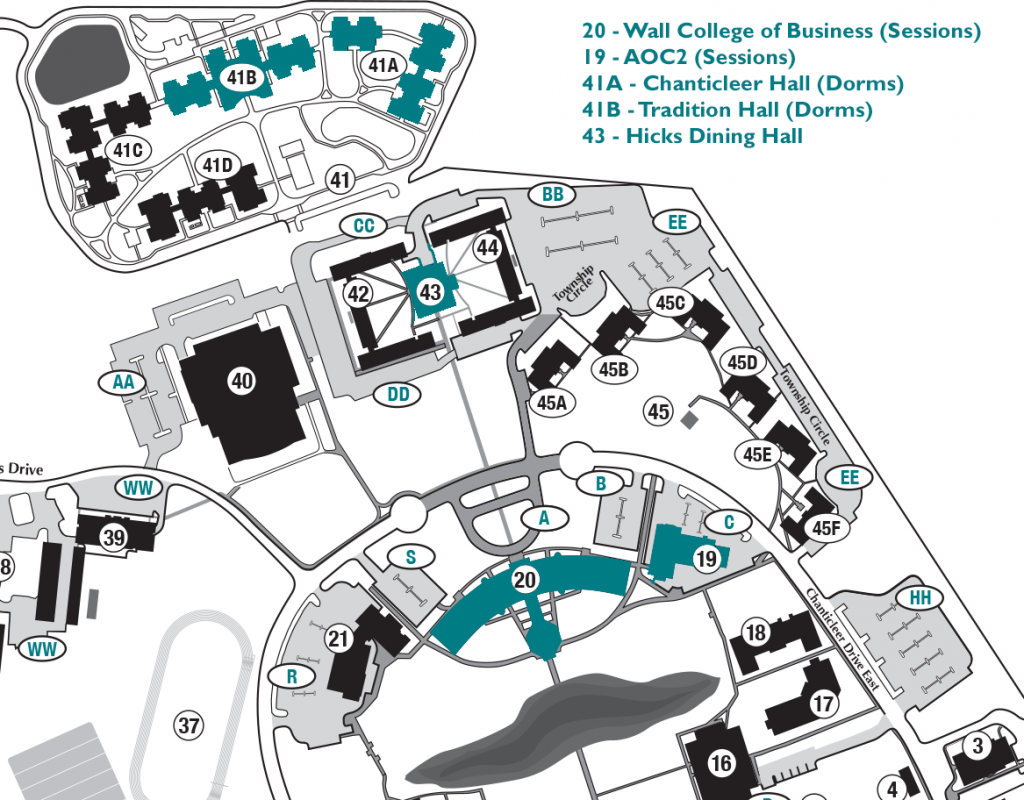 MOBTS sessions will be hosted in the Wall College of Business and adjacent new Brittain II building.

Dorms will be just a short walk from the dining facility and session rooms. The first floor of Tradition Hall will have a convenience market open to our attendees for snacks, drinks, and other sundries.
[icon_box align="center" animation="left-to-right" icon="icon-building" animation_delay="0″]
Brand New Dorms
[spacer height="1px"]
Coastal's new dorms will provide you with a comfortable 2:1 bedroom-to-bathroom ratio. In addition, free laundry and a marketplace will make your stay all the more comfortable.[spacer height="1px"][/icon_box]
[icon_box align="center" animation="flip-y" icon="hb-moon-bed" animation_delay="400″]
Myrtle Beach Hotels
[spacer height="1px"]
Looking to book a place a bit closer to the ocean? The Myrtle Beach area has 95,000 rooms available to you. However you must act quickly as over 17-million tourists visit each year, so those rooms go fast! It is suggested you also look into splitting a rental home via VRBO and similar websites.[spacer height="1px"][/icon_box]
[icon_box align="center" animation="right-to-left" icon="hb-moon-airplane" animation_delay="800″]
Traveling to the Conference
[spacer height="1px"]
With over 35 non-stop flights – many by way of discount carriers – Myrtle Beach International Airport is a rather cost-effective location to fly into. Cities with direct flights include Akron, Baltimore, Boston, Chicago, Cleveland, Dallas, Detroit, New York City, Philadelphia, Pittsburgh, St. Louis, Toronto, Washington D.C., and more.[spacer height="1px"][/icon_box]
An Aerial Look at Coastal Carolina University