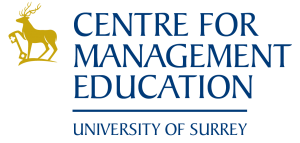 Online. 6 Months. Part-time. Personal Learning Coach
Applicants to the programme
Teaching in a Business School is a great way of sharing practical experience and knowledge with future managers and leaders. The PGCert in Management Education, Surrey Business School, UK offers practitioners the opportunity to gain a recognised learning and teaching qualification relevant for teaching in the business school environment. Over a period of 6 months stating in January students on the programme will learn about the environment, strategic and operational aspects of business schools and in the end of the programme, will put their newly acquired skills and knowledge into practice. The course is predominantly online and prides itself with a personal learning coach culture, allowing students to develop their own identify and philosophy of teaching throughout the 6 months. We welcome students with any business and management related background and experience. Please get in touch if you would like an informal pre-application conversation with Programme Director, Dr Christine Rivers, c.rivers@surrey.ac.uk. Applications are now open for our January 2021 start.
Expression of interest for co-delivery on the programme
The Post graduate Certificate in Management Education has been delivered successful over the past 3 years. We have welcomed practitioners with all backgrounds and levels of experiences (e.g. CEOs, Retail Managers), ECRs and junior teaching faculty. The PGCert in ME has equipped students with skills and knowledge to confidently deliver impactful and engaging learning and teaching. The programme consist of four modules: Introduction to ME, Theoretical perspectives in ME, Innovation & Leadership in ME and ME in Practice. The programme is delivered predominantly online (module 1-3 online and module 4 on campus as a 3-day summer school, although this year 2020 we also delivered this as a virtual summer school). Having successfully established this programme and enabling practitioners to transition into ME through personal learning coaching and support, we would like to invite expressions of interest of colleagues who would be interested in co-creating/ co-delivering / co-teaching on the programme, starting in January 2021. The level of commitment is negotiable and could be as little as delivering a one off webinar in one of the modules outlined above or being actively involved in the Summer School over 3 days or acting as a personal learning coach for one of the students. All our webinars are scheduled for 7.30 pm BST.
If you are interested in getting involved with the PGCert Management Education, please contact Dr Christine Rivers for an information conversation, c.rivers@surrey.ac.uk.